Farmer Market Meal 7-16-18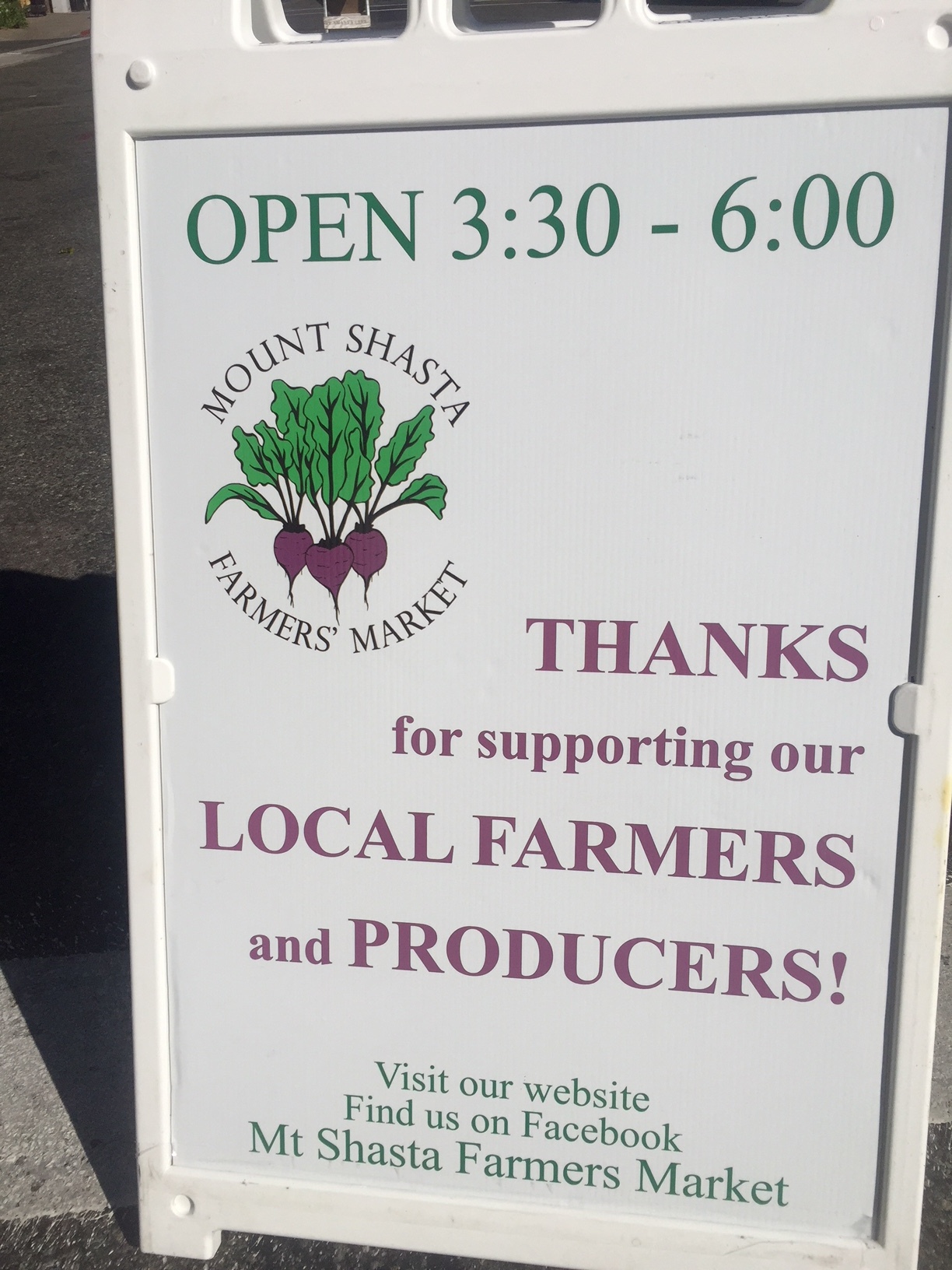 Every Monday the 400 block of downtown N. Mt. Shasta Blvd. closes to traffic for the Mount Shasta Farmers Market. The market is hosted by JEDI.
The market offers locally grown organic produce, honey, soaps, spring rolls, local crafts and more. JEDI is a proud host of the Mt. Shasta Farmers' Market.
Eating out of the market is like playing Chopped in your own kitchen while supporting our local farmers by purchasing really beautiful products.
Ask about WIC, Snap Match and Senior Nutrition Programs at the Mt. Shasta Farmers Market information booth.
Growing up, my Grandma and Grandpa Sturdivant lived on 2 acre 'ranchette' just outside Rio Linda, north east of Sacramento. Grandpa grew the vegetable and Grandma grew the flowers. Our family of five drove out every weekend for Sunday Supper. My Grandpa would save the eggs for the grandchildren to gather. The Grandkids in first family to arrive at their house got to get the eggs. There were nine of us cousins. I never remember being competitive about arriving first, but it was always a treat to gather eggs. Then When everyone was there Grandpa would take a spade to the potato patch where we would select our very own red potato. He'd pull his pen knife out and carve our initials in them. We would run them into Grandma for cooking with our Aunts sitting around the table drinking coffee and catching up with each other. Every time I eat a red potato I think of them.
Lemon Cucumber Salad with Micro Greens and Onions
Chop produce and toss in a bowl with your favorite salad dressing.
Basic Oil and Vinegar Dressing
Balsamic Vinegar and/or red or white wine vinegar
Olive oil
Garlic - peel and grate
Dijon mustard - to taste
Salt & pepper
I go with the classic formula is 2 part vinegar to 3 parts olive oil. Put ingredients in a jar and shake well. Pour dressing on your salad toss to coat veggie. Refrigerate leftover dressing.
I love onions! I include onions in soups and sandwiches. I pickle them and I caramelize them. Today I made a Walla Walla Sweet Onion sandwich served on sourdough bread, micro greens seasoned with mayonnaise, with plenty of fresh salt and pepper.
Walla Walla Sweet Onions grow in Walla Walla, Washington. They are crispy sweet white onions that are best eaten raw. They are good in salads, burgers, tacos and sandwiches. Just a drizzle of good olive oil with salt and pepper over this slice sweet onion is a real treat.
Peaches for Dessert
My Granddaughters love fruit for dessert and so do I!
Fresh fruit is a healthy sweet dessert. Peaches are one of my favorite fruits.

Tips: Serve with ice cream or heavy cream or yogurt.
Serve over pound cake or with a good ginger snap cookie.